Everybody have some people as model in life and inspiration to continue changing your life. Sometimes they are some celebrity, some time are people that you meet, some time are your friends.
Here I want to say Thank you, for all people who inspire me.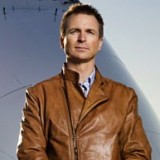 Phil Keoghan


Not only host of my favorite show – The Amazing Race, Phil inspire with cycling projects across USA and France and what he done with NOW – No Opportunity Wasted. Every time is such a pleasure to watch and listen him.
A solo girl cyclist traveling with bike from Germany to Australia. Is so fascinate to read stories from road or see amazing photos. See and you on her site – pushbikegirl.com
Taro Hayashibara
Find his YouTube chanel searching for cycling trips in Bulgaria, on one breath I wach all video diaries that he upload. Now TARO on the [Long Way Home] is one of my favorite videos 🙂
Alastair Humphreys
If, the adventure have a human name that will be – Al Humphreys. India, Yukon, Greenland, Around the world, there no place to not be explore by Al. This man and his book "Microadventures" turn one day (or night) out of city in real exploring mind and nature experience. So read his book MICROADVENTURES or  site
Ken Roberts
One of first across the globe cyclist that I meet, and Outward Bound colleague. He made his around the world adventure between 2009 and 2012 – acrosscontinents.org 
Also some friends: